Leasing Information
Cedar Creek Mall, located in Marathon County, within the Cedar Creek Village is centrally located in Wisconsin at the crossroads of Green Bay to the East, Minneapolis/St. Paul to the West, Madison to the South, and Minocqua to the North. Cedar Creek Mall is located to the south of Wausau and Rib Mountain and is the first major EXIT from the South. The Mall is easily accessed from HWY 51/I-39 using Exit 185 and is just 2 miles south of the Hwy 29 interchange. HWY51/I-39 traffic has excellent visibility of both Cedar Creek Mall and Cedar Creek Village. Public bus service is available connecting Cedar Creek Mall with the downtown Wausau metro area. View map.
The Cedar Creek Village encompasses an area of about 350 acres and has become the new entrance to Northern Wisconsin. Development continues to be very strong as restaurants, entertainment venues, lodging, and retail stores continue to be built. The area is comprised of 6 hotels, an indoor water park, 8 restaurants, 100,000 square foot Gander Outdoors store, 100,000 square foot Harley Davidson Super Store, snowmobiling trails, bike trails, Granite Peak Ski Area (Rib Mountain), 7 golf courses, and an assortment of other destination attractions. With the multitude of entertainment, shopping and sporting attractions, the Cedar Creek Village is quickly becoming a destination for both in-state and out-of-state visitors year round.
Demographic Information
Marathon County is the largest of Wisconsin's 72 counties, with 1,584 square miles. The Wausau metro area including Wausau, Schofield, Rothschild, Weston, and Rib Mountain has over 85,000 people living in the area.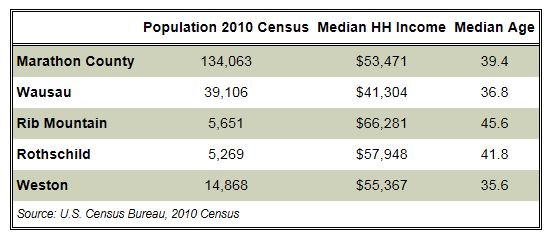 For leasing information contact:
Tony "T.J." Morice
Commercial Real Estate Advisor
NAI Pfefferle
317 N. 17th Ave., Suite 303
Wausau, WI 54401
T 715.218.2900
F 715.261.0454
C 715.297.1953